It's always nice to see when alcohol-free drinks get a big push from the mainstream media, especially when the Aussie battlers get a mention (i.e. us!). Big thanks to Seana Smith for this write up over the weekend and non-alcoholic recipe in the Fairfax papers :) Great recipe ideas! 
We always think a nice idea with our drinks is to start off by shaking up a super cold martinis with a little citrus garnish. This way you can taste the spirits as they are and hopefully enjoy the complexity of flavours in each of them.
From there, we encourage experimentation with different tonic waters and mixers – brands such as Fevertree, Strangelove, PS Soda and so on have some amazing ones that go well if you match them right – which we think is part of the fun.
If you're looking for easy & awesome G&T style recipes, from an altered perspective of course (get it, ALTD..) we are loving these:
Four simple mocktail recipes to make at home
Cucumber Alt Gin & Tonic
The alcohol-free gin in this drink is made by ALTD Spirits and the name says it all. These spirits may be distilled in traditional copper stills, but their alcohol content has been altered, to zero per cent proof.
Based in Marrickville, Sydney, the ALTD Spirits microdistillery creates spirits which are not modelled on the flavours of alcoholic spirits – they have tastes unique to themselves.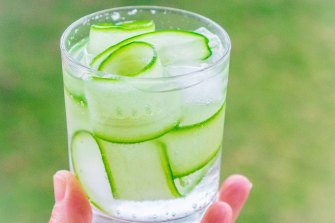 The Green Grocer G&T ingredients include: lemon myrtle and lemon peel, green grapefruit, Tasmanian pepperberry, native thyme, rosemary, aniseed myrtle plus sandalwood and iron bark.
This is a powerful botanical alt gin which goes very well with Indian tonic or a cucumber tonic. Adding in plenty of cucumber and muddling the drink before adding ice gives a fresh feel and terrific aromas to a new, old favourite.
Ingredients
40ml alcohol-free gin
100ml tonic water, plain or try a cucumber tonic water
1 small cucumber
Method
Slice the cucumber lengthways using a mandolin or potato peeler
Carefully curl the cucumber into the drink, add the gin and then very gently muddle with a wooden spoon, not too much
Add ice cubes to glass
Pour in the tonic and give a gentle stir
The ALTD Spirits company was founded in 2018 by former barman and marketer Tim Triggs. The company sources all its ingredients from Australia, ethically and sustainably, and nothing artificial is used.
Cheers Seana!
More non-alcoholic ideas here: https://www.goodfood.com.au/drinks/raising-a-glass-to-nonalcoholic-drinks-plus-the-best-boozefree-tipples-to-try-20201217-h1svzq